Posts for tag: sealants
By Children's Dental Center of New Hampshire and Orthodontics TOO
February 10, 2021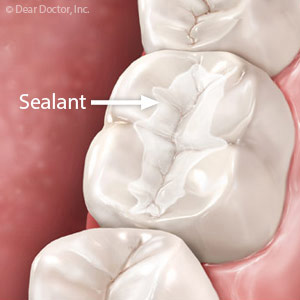 Teeth lost to tooth decay can have devastating consequences for a child's dental health. Not only can it disrupt their current nutrition, speech and social interaction, it can also skew their oral development for years to come.
Fortunately, we have a number of preventive tools to curb decay in young children. One of the most important of these, dental sealants, has been around for decades. We apply these resin or glass-like material coatings to the pits and crevices of teeth (especially molars) to help prevent the buildup of bacterial plaque in areas where bacteria tend to thrive.
Applying sealants is a simple and pain-free process. We first brush the coating in liquid form onto the teeth's surface areas we wish to protect. We then use a special curing light to harden the sealant and create a durable seal.
So how effective are sealants in preventing tooth decay? Two studies in recent years reviewing dental care results from thousands of patients concluded sealants could effectively reduce cavities even four years after their application. Children who didn't receive sealants had cavities at least three times the rate of those who did.
Sealant applications, of course, have some expense attached to them. However, it's far less than the cost for cavity filling and other treatments for decay, not to mention future treatment costs resulting from previous decay. What's more important, though, is the beneficial impact sealants can have a child's dental health now and on into adulthood. That's why sealants are recommended by both the American Dental Association and the American Academy of Pediatric Dentistry.
And while sealants are effective, they're only one part of a comprehensive strategy to promote your child's optimum dental health. Daily brushing and flossing, a "tooth-friendly" diet and regular dental cleanings and checkups are also necessary in helping to keep your child's teeth healthy and free of tooth decay.
If you would like more information on preventing tooth decay in children, please contact us or schedule an appointment for a consultation.
By Children's Dental Center of New Hampshire and Orthodontics TOO
August 31, 2020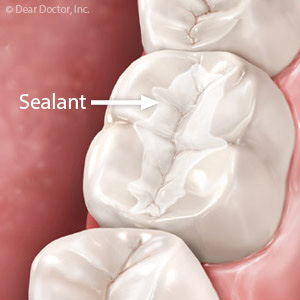 Your child could hit a speed bump on their road to dental maturity—tooth decay. In fact, children are susceptible to an aggressive form of decay known as Early Childhood Caries (ECC) that can lead to tooth loss and possible bite issues for other teeth.
But dentists have a few weapons in their arsenal for helping children avoid tooth decay. One of these used for many years now is the application of sealants to the biting surfaces of both primary and permanent teeth. Now, two major research studies have produced evidence that sealant applications help reduce children's tooth decay.
Applying sealant is a quick and painless procedure that doesn't require drilling or anesthesia. A dentist brushes the sealant in liquid form to the nooks and crannies of a tooth's biting surfaces, which tend to accumulate decay-causing bacterial plaque. They then use a curing light to harden the sealant.
The studies previously mentioned that involved thousands of patients over a number of years, found that pediatric patients without dental sealants were more than three times likely to get cavities compared to those who had sealants applied to their teeth. The studies also found the beneficial effect of a sealant could last four years or more after its application.
The American Dental Association and the American Academy of Pediatric Dentistry recommend sealants for children, especially those at high risk for decay. It's common practice now for children to first get sealants when their first permanent molars erupt (teeth that are highly susceptible to decay), usually between the ages of 5 and 7, and then later as additional molars come in.
There is a modest cost for sealant applications, but far less than the potential costs for decay treatment and later bite issues. Having your child undergo sealant treatment is a worthwhile investment: It could prevent decay and tooth loss in the near-term, and also help your child avoid more extensive dental problems in the future.
If you would like more information on sealants and other preventive measures for children's teeth, please contact us or schedule an appointment for a consultation.
By Children's Dental Center of New Hampshire
January 19, 2019
Have you heard about dental sealants? These preventive treatments have been available for many decades, and more and more children are taking advantage of them. The National Institutes of Health (NIH) estimates that around 30% of kids from 6 to 11 years of age have had sealants applied to their molars (back teeth). Sealants are designed to reduce the incidence of cavities by filling in or eliminating the pits or crevices found in all molars, where decay-causing bacteria can hide and your brush can't reach. But do they really work?
Now, the research is in, and the answer is clear — YES!
Two major studies, each of which reviewed the results of thousands of patients over several years, recently came to the same conclusion: Dental sealants are effective at reducing cavities, and their benefits can last for four years (or more) after application. In general, the studies showed that kids who didn't get sealants were twice, three times, or even more likely to get cavities, compared to kids treated with sealants.
Sealants themselves are protective coatings made of plastic resins or glass-like materials. They are applied in liquid form, and then hardened by a special light. When "painted on" to the chewing surface of a molar, sealants fill in the tiny crevices, or "pits and fissures," that are found there. Uneven tooth surfaces form a perfect breeding ground for the bacteria that cause tooth decay; worse yet, the bristles of a tooth brush can't usually reach them. That's what makes these areas highly susceptible to tooth decay.
Applying sealants is a quick and painless procedure that doesn't require any numbing shots or drilling. Many kids start getting sealants when the first permanent molars come in, around age 5 to 7; they may have more sealant treatments when additional molars emerge, between the ages of 11 and 14.
Sealants are recommended by the American Dental Association and the American Academy of Pediatric Dentistry, and have only a modest cost per tooth. On the other hand, having a cavity filled generally costs substantially more, and may result in more trouble (and expense) down the line — so sealants can make sense economically, as well as preventively. This is especially true for those at high risk for tooth decay.
If you have questions about dental sealants, please contact us or schedule a consultation. You can read more in the Dear Doctor magazine article "Sealants for Children," and "Top 10 Oral Health Tips for Children."