Posts for: February, 2021
By Children's Dental Center of New Hampshire and Orthodontics TOO
February 20, 2021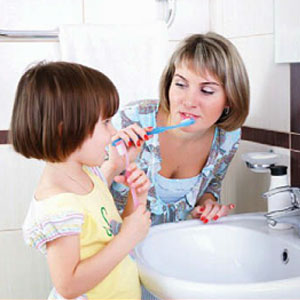 Proactive dental care is an essential part of childhood growth. But that care can be much harder for children with chronic health issues than for healthier children.
"Chronic condition" is an umbrella term for any permanent and ongoing health issue. Asthma, Down's syndrome, cystic fibrosis, congenital heart defects and many others fall under this umbrella, with varying symptoms and degrees of intensity. But they all have one common characteristic — a long-term effect on all aspects of a child's health.
That includes the health of a child's teeth and gums. Here, then, are a few areas where a chronic health condition could impact dental care and treatment.
Ineffective oral hygiene. Some chronic conditions like autism or hyperactivity disorder (ADHD) that affect behavior or cognitive skills can decrease a child's ability or willingness to brush or floss; some conditions may also limit their physical ability to perform these tasks. Parents and caregivers may need to seek out tailored training for their child's needs, or assist them on a regular basis.
Developmental defects. Children with chronic conditions are also more likely to have other developmental problems. For example, a child with Down, Treacher-Collins or Turner syndromes may be more likely to develop a birth defect called enamel hypoplasia in which not enough tooth enamel develops. Children with this defect must be monitored more closely and frequently for tooth decay.
Special diets and medications. A child with a chronic condition may need to eat different foods at different times as part of their treatment. But different dietary patterns like nutritional shakes or more frequent feedings to boost caloric intake can increase risk for tooth decay. Likewise, children on certain medications may develop lower saliva flow, leading to higher chance of disease. You'll need to be more alert to the signs of tooth decay if your child is on such a diet or on certain medications, and they may need to see the dentist more often.
While many chronic conditions raise the risk of dental disease, that outcome isn't inevitable. Working with your dentist and remaining vigilant with good hygiene practices, your special needs child can develop and maintain healthy teeth and gums.
If you would like more information on dental care for children with chronic health conditions, please contact us or schedule an appointment for a consultation. You can also learn more about this topic by reading the Dear Doctor magazine article "Managing Tooth Decay in Children with Chronic Diseases."
By Children's Dental Center of New Hampshire and Orthodontics TOO
February 10, 2021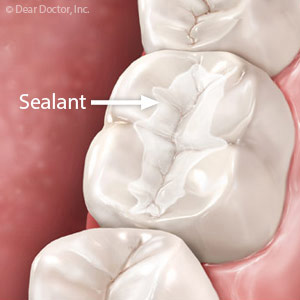 Teeth lost to tooth decay can have devastating consequences for a child's dental health. Not only can it disrupt their current nutrition, speech and social interaction, it can also skew their oral development for years to come.
Fortunately, we have a number of preventive tools to curb decay in young children. One of the most important of these, dental sealants, has been around for decades. We apply these resin or glass-like material coatings to the pits and crevices of teeth (especially molars) to help prevent the buildup of bacterial plaque in areas where bacteria tend to thrive.
Applying sealants is a simple and pain-free process. We first brush the coating in liquid form onto the teeth's surface areas we wish to protect. We then use a special curing light to harden the sealant and create a durable seal.
So how effective are sealants in preventing tooth decay? Two studies in recent years reviewing dental care results from thousands of patients concluded sealants could effectively reduce cavities even four years after their application. Children who didn't receive sealants had cavities at least three times the rate of those who did.
Sealant applications, of course, have some expense attached to them. However, it's far less than the cost for cavity filling and other treatments for decay, not to mention future treatment costs resulting from previous decay. What's more important, though, is the beneficial impact sealants can have a child's dental health now and on into adulthood. That's why sealants are recommended by both the American Dental Association and the American Academy of Pediatric Dentistry.
And while sealants are effective, they're only one part of a comprehensive strategy to promote your child's optimum dental health. Daily brushing and flossing, a "tooth-friendly" diet and regular dental cleanings and checkups are also necessary in helping to keep your child's teeth healthy and free of tooth decay.
If you would like more information on preventing tooth decay in children, please contact us or schedule an appointment for a consultation.