Posts for: September, 2017
By Children's Dental Center of New Hampshire
September 22, 2017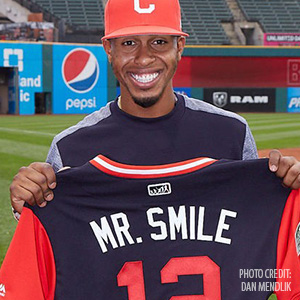 At the first-ever Players Weekend in August 2017, Major League Baseball players wore jerseys with their nicknames on the back. One player — Cleveland Indians shortstop, Francisco Lindor — picked the perfect moniker to express his cheerful, fun-loving nature: "Mr. Smile." And Lindor gave fans plenty to smile about when he belted a 2-run homer into the stands while wearing his new jersey!
Lindor has explained that he believes smiling is an important part of connecting with fans and teammates alike: "I've never been a fan of the guy that makes a great play and then acts like he's done it 10,000 times — smile, man! We've got to enjoy the game."
We think Lindor is right: Smiling is a great way to generate good will. And it feels great too… as long as you have a smile that's healthy, and that looks as good as you want it to. But what if you don't? Here are some things we can do at the dental office to help you enjoy smiling again:
Routine Professional Cleanings & Exams. This is a great place to start on the road toward a healthy, beautiful smile. Even if you are conscientious about brushing and flossing at home, you won't be able to remove all of the disease-causing dental plaque that can hide beneath the gum line, especially if it has hardened into tartar, but we can do it easily in the office. Then, after a thorough dental exam, we can identify any problems that may be affecting your ability to smile freely, such as tooth decay, gum disease, or cosmetic dental issues.
Cosmetic Dental Treatments. If your oral health is good but your smile is not as bright as you'd like it to be, we can discuss a number of cosmetic dental treatments that can help. These range from conservative procedures such as professional teeth whitening and bonding to more dramatic procedures like porcelain veneers or crowns.
Tooth Replacement. Many people hide their smiles because they are embarrassed by a gap from a missing tooth. That's a shame, because there are several excellent tooth-replacement options in a variety of price ranges. These include partial and full dentures, bridgework, and dental implants. So don't let a missing tooth stop you from being Mr. (or Ms.) Smile!
If you'd like more information about oral health or cosmetic dentistry, please contact us or schedule an appointment for a consultation. You can also learn more by reading the Dear Doctor magazine articles "Beautiful Smiles by Design" and "The Impact of a Smile Makeover."
By Children's Dental Center of New Hampshire
September 07, 2017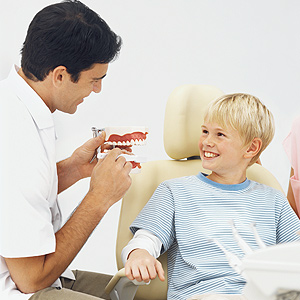 As a parent, the task of guiding your children through their physical, mental and social development can sometimes seem overwhelming. That doesn't have to be the case with their dental development — that's because we're one of your most reliable support partners for oral health. We're available not only to treat problems as they arise, but to also offer expertise and resources that can help you help your children establish life-long oral health.
Here are just a few ways we can help guide you along the path to a brighter dental future for your children:
Age One Dental Visit. A healthy life is built on healthy habits — and there's no better habit for great dental health than regular checkups. We recommend your child's first visit with us around their first birthday. Beginning this early not only helps us identify any emerging dental problems, it can also help the child — and you — become more comfortable with visiting the dentist. As they grow older they'll think nothing of their regular visits in the dentist's chair.
Help! While your child's first teeth coming in are exciting milestones, the teething process can be extremely frustrating. And, when those same primary teeth give way to their permanent versions, you'll develop a new set of concerns about their development. By establishing a long-term trust relationship with us, we can offer a wealth of knowledge and tips (as well as needed reassurance) concerning the various stages of your child's dental development.
"Do as I Do." Dental visits are important — but the greatest contribution to long-term dental care is a daily habit of proper brushing and flossing, which should start as soon as your child's first teeth begin to appear. "Modeling" is the best approach for instilling this habit in your child — performing hygiene tasks together and allowing them to learn how to do it from you. To be sure you're passing on the proper technique, we'll be glad to provide you with instruction on brushing and flossing — for your sake as well as theirs.
Although rewarding, raising a child is a tough job. When it comes to their oral health, though, we can help make that job a little easier.
If you would like more information on building the right foundation for your child's dental health, please contact us or schedule an appointment for a consultation. You can also learn more about this topic by reading the Dear Doctor magazine article "Dentistry & Oral Health for Children."